Sometimes a football match is more than just a football match. And Wednesday's Europa League final in Budapest was a great example of just that.
Sevilla eventually beat Roma 4-1 on penalties having drawn 1-1 after 120 minutes of grueling action.
Not only does it further cement Sevilla's standing as the most successful Europa League club ever – the victory was a record-extending seventh title for the Spanish club in the competition – but it also throws up plenty of questions for Roma.
Chief among those is the future of Roma manager José Mourinho after some less-than-certain remarks following his first ever defeat in a European final.
"I have to fight for these lads and therefore not say objectively that I will remain," Mourinho told Sky Sports Italia after the defeat, per Reuters.
"I spoke to the club in December when I had that approach from the Portuguese national team. I have not had any contact with anyone else since then. I have a year left on my contract and this is the situation."
After the final, Mourinho was seen taking off his runners up medal and throwing it to a fan in the stands, possibly hinting at an unclear future or merely his dissatisfaction with the result.
The Italian side had been relying on the qualification for the Champions League that comes with winning the Europa League – and the financial implications as well – with it facing financial penalties from UEFA for past spending.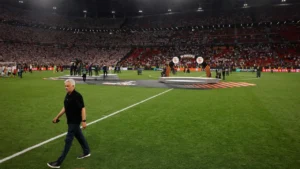 Missing out on European football's premier competition could have serious ramifications for the club, with players likely to be sold to keep up with costs.
And with reports linking Mourinho to a move away from the Italian capital, questions surrounding where the 60-year-old will be coaching next season are being asked, with a return to Real Madrid or a move to Paris Saint-Germain already touted.
Overall, Mourinho has managed to revitalize his reputation as a manager at Roma after a few lean years with Tottenham in the Premier League.
He helped win Roma's first trophy in 11 years last season with victory in the inaugural Europa Conference League – in doing so, he became the third manager ever to have won all three existing major European trophies.
But he admitted after the defeat to Sevilla that this long season, in which Roma has played 54 games with one more still to come, that it has taken its toll on him and his squad.
"We're physically exhausted, mentally drained, feeling dead because we believe it's an unjust defeat with numerous debatable incidents," the Portuguese manager explained.
"We are dead tired, but proud. I always say you can lose a football match, but never your dignity or professionalism.
"I lost this one, but I return home prouder than ever this time. The lads gave absolutely everything this season."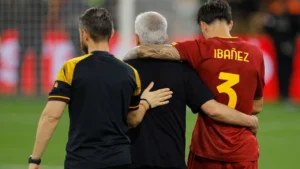 Despite that admitted tiredness, Mourinho didn't appear to lack any passion after the defeat; he was seen in the bowels of the Puskás Aréna after the game repeatedly saying "it's a f***ing disgrace," though it's not clear who his ire was directed towards.
Wednesday's final was an aggressive encounter which saw 13 cards handed out – as well as one for Mourinho himself – and plenty of gamesmanship from both teams.
Rome, Paris, Madrid; it is unclear which technical area Mourinho will be prowling in the coming season but wherever it is, the cameras are sure to follow.
A special year
While Sevilla's victory was a crowing moment for the club after a disappointing league season, it was a stellar personal moment for the club's right back Gonzalo Montiel.
Montiel, who began the game on the bench before coming on in extra time, had the opportunity to score the winning penalty with Sevilla's fourth in the shootout. His first attempt was saved by Rui Patrício in the Roma goal, only for it to be retaken because the Portuguese stopper had prematurely stepped off his line.
Montiel made no mistake with his second attempt, sending Patrício the wrong way to seal the victory.
The defender has become a specialist at important penalties after he scored the winning penalty for Argentina in the World Cup final against France in December.
Sevilla coach José Luis Mendilibar even revealed afterward that Montiel had initially meant to take the team's fifth penalty, but the players themselves decided to have the Argentine take the decisive fourth.
It was also a perfect end to the season for Sevilla goalkeeper Yassine Bounou, who played a key role in Morocco's run to fourth place at the World Cup.
Bounou saved two penalties in the shootout, as well as numerous timely interventions throughout the game, earning himself the man of the match honors for his exploits.
Sevilla has looked transformed this season under Mendilibar after the 62-year-old was hired in March.
He has helped guide the team away from relegation and now secured its seventh Europa League title, cementing its title as the 'King' of the competition.
Having signed a contract until the end of the season, Mendilibar chose not to answer questions about his future and instead focused on the team's success.
"We're going to enjoy this because it cost us a lot. I don't know if I'm going to renew or not, but I also don't care," he said.
"It's been a job well done, I'm grateful for the opportunity. If we talk and come to an agreement, perfect, if not I'll leave with lots of friends and very grateful."